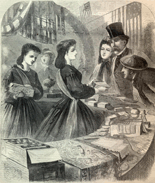 ABOUT THE UNITED STATES SANITARY COMISSION

The United States Sanitary Commission was founded in 1861, just as the American Civil War began. Its main goal was to promote clean and healthy conditions in the Union Army camps, but the commission also offered its serves to prisoners of war. The commission staffed field hospitals, raised money, provided all types of supplies, and worked to educate our military and government on matters of health and the importance of proper sanitation.
Many women volunteered for work with the U.S. Sanitary Commission. Some provided direct service at the field hospitals and camps, organizing medical services, acting as nurses, and performing other tasks -- many doing the jobs of doctors. Others raised money and managed the organization. The most successful forms of fundraising for the commission were the "sanitary fairs". Fairs sprung up all over the North, and they ranged from small town affairs to the most successful of all, the Metropolitan Sanitary Fair in New York City.
The U.S. Sanitary Commission also helped to provide much-needed food and care for soldiers returning from service. After the end of fighting, the U.S. Sanitary Commission worked with veterans in obtaining promised pay, benefits, pensions and housing. After the Civil War ended, many of the women volunteers found work in jobs that were often closed to women, hired largely due to their much-respected U.S. Sanitary Commission experience. Some, expecting more opportunities for women and not finding them, became activists for women's rights. Many of those women are, today, considered the mothers of the women's movement. Most women volunteers returned to their families and to traditional female roles as wives and mothers.
During its existence, the U.S. Sanitary Commission raised about 5 million dollars in cash, and 15 million dollars in donated supplies. It is believed that because of the work by the volunteers of the commission, up to fifty-percent of the wounded survived, solely due to that assistance. The commission disbanded in 1887, but the organization is widely known as the forerunner of the American Red Cross, which was founded by Clara Barton, who at one time worked with the U.S. Sanitary Commission.